Where:
Deep within the Forest, both Ink and Paint sides.
When:
The day after
this
and
this.
Who:
Audrey II, his Audling Spores, and anyone else who dares to come and fight to save this world... and themselves.
What:
The Final Battle to end the World Split!
Warnings:
This is gonna get
messy.
[Following the words of The Inky Mayor and The Painted Lady, it would seem they've become aware there is one last obstacle in the way of Ink City's two halves at last joining back together.
If you've already been unfortunately acquainted with the vicious flesh-and-blood-hungry plant creatures crawling about both sides, what it is should be even more clear to you.
The answer, the origin of these monstrous "Spores", lies deeper within the forest than anyone has gone in quite a long time...
Well, it's time to go investigate.
And should you choose to, here is what you will find...]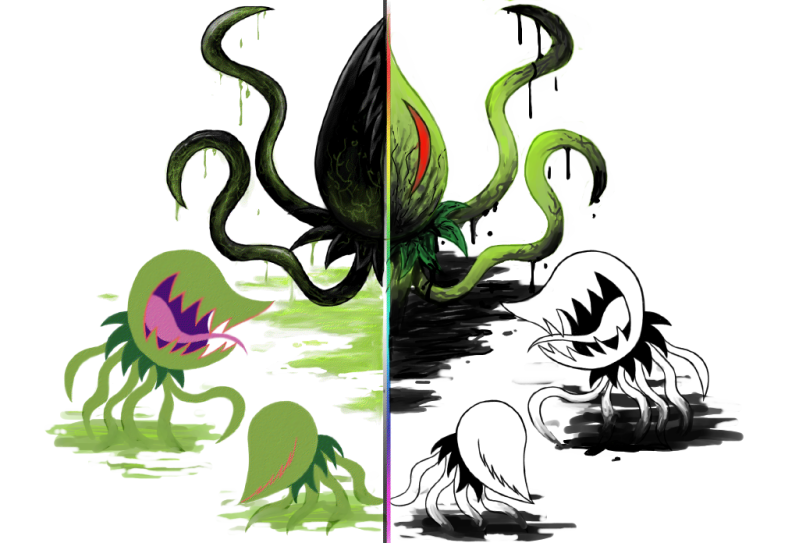 [The "Audlings", of all sizes, though none bigger than what had created them... forming, mutating and taking shape out of the dripping, bleeding ink and paint...
Melting off their "parent."
To those who have been forced residents within the City for a longer time, they may likely, and unfortunately, recongize the "father"... known as Audrey II.
But to say something was horribly, disturbingly wrong with the giant alien flytrap was just about the greatest understatement possible.
To the Inkside, he is a forboding mass of black, but oozing out a mass of green from deep inside, this color becoming his "children".
On the Paintside, he is a bright and striking green, much like he originally was... yet also bleeding out and covered in a mess of black, giving birth to the dark and colorless "Spores".
He was frighteningly "broken", unhealthy....
And
oh so starving.
His smaller ink-and-painted concieved abominations of offspring understood this. They were a part of him.
They needed to feed... they needed to consume, to devour that which gives life... for
him.
But from what those in the City have learned thus far, sometimes the only way to fix something is to break and rebuild it completely.
The only problem is Daddy and his babies aren't going to go without one hell of a fight.
There is no doubt it will be dangerous. It will be the greatest challenge those brought here have had yet to face in this world. You may not survive, and to respawn under this world's current conditions will likely not be favorable... if it can respawn you at all.
Yet standing idly by will only bring you closer to certain demise.
So, the final question is...
Are you ready?]